Your 6 Day Fishing Forecast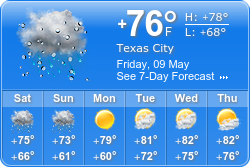 How to Hire a Guide
Mariner's Log, Pasadena Tx, Editor is Chuck Hlava, June 2004
Why and how to hire a fishing guide are many questions fisherman think of. A recent conversation about this with Captain Paul Marcaccio was refreshingly informative. Paul is a B.O.I Galvestonian, Marine Corps Veteran, devoted family man and committed Christian who at age sixty still lists his dad as his biggest hero. He has probably forgotten more than many of us will ever learn about Galveston Bay.
In his straightforward manner, Marcaccio says that most folks that hire a guide do so for one reason–to help them catch more fish.
A good guide will be a good teacher and probably a good entertainer as well with a broad based knowledge of more than just fishing. An attentive customer will end the trip knowing more than when he began and will have more self confidence.
With over 1100 guides working the coast, word of mouth is the best way to find a good one. Many marina owners or managers can point in the right direction. Ask about experience, get references, and be certain your guide is licensed and insured. Be specific about your expectations. Lures or natural baits? Types of fish targeted? Cost and Fees? Are youngsters accommodated? Who provides tackle, food, beverage, and bait? Real professionals know that good reputation is no easier to keep than earned, and will constantly strive to improve customer satisfaction. Realize that bad days can and do happen. try not to hold your guide personally responsible. He is probably doing his best.
After booking a trip, make it a point to be on time. Be open minded to suggestions and heed the advise you are paying for. Do not try to beat the master at his game. Captain Paul asserts that women are often better clients than men because of an innate ability to seek and follow advise.
Honesty and loyalty are virtues which work both ways in any relationship, charter sport fishing not excepted. Broach either one, and all parties stand to lose. Support for the local economy should be considered. Are you hiring a contributor or a here to day, gone tomorrow type?
At days end as we shook hands and parted, Paul reminded me–as he does all of his clients–to give thanks to god for his gift of great outdoors. As stated early, a good guide deals in good advise.
Sponsors
Captain Paul would like to thank the following companies for their continued support and endorsement. To try any of these companies current products, charter a trip with Captain Paul to have a hands-on trial.